The 2024 Toyota Camry: Price, Features & Specs
Blog
Sep 25th, 2023
2024 Toyota Camry: Release Date, Price, Features & Specs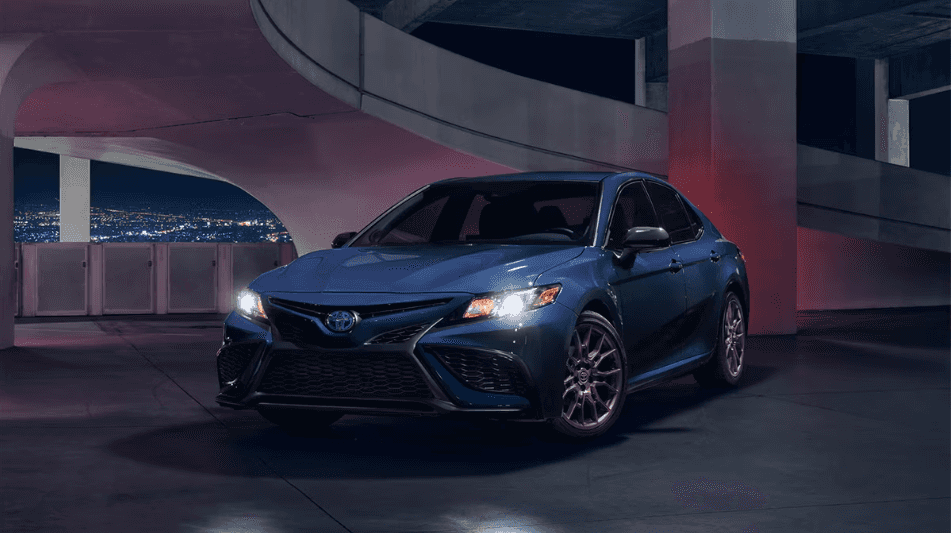 Get ready to embrace the future of driving with the 2024 Toyota Camry – a masterpiece meticulously crafted by Bank Street Toyota in Ontario. This latest iteration is more than just a car; it's an embodiment of innovation and practicality, making it your perfect partner for conquering the diverse landscapes of Ontario. With a completely new design and modern safety enhancements, the Camry is ready to excel on the unique roads that wind through the province's picturesque beauty.
Designed to accommodate up to five passengers in utmost comfort, this version boasts a robust 3.5-liter V-6 engine delivering an impressive 301 horsepower and 267 lb-ft of torque. In an astonishing feat, it rockets from 0 to 100 km/h in just 5.6 seconds, ensuring you're always equipped for the twists and turns that Ontario's roads have to offer
2024 Toyota Camry Redesign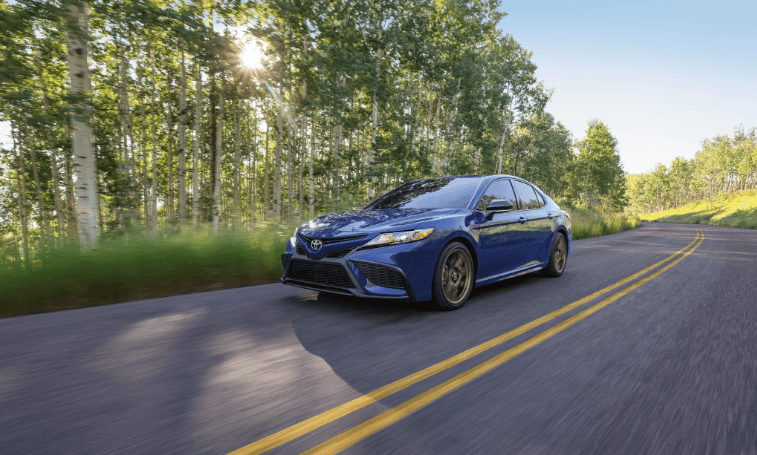 The 2024 Toyota Camry doesn't just evolve; it undergoes a revolution. This update brings many improvements to both the interior and exterior, ensuring it's equipped to handle every road Ontario offers. The design showcases a sleek and modern look, accompanied by increased dimensions perfectly suited for Ontario's roads – from bustling Toronto cityscapes to serene drives around Lake Ontario.
The integrated LED headlights and other advanced features like the rearview camera system, Google Assistant™, USB-C charge port, Apple CarPlay®, Android Auto™, six speakers, Mobile hotspot, Wi-Fi Connect, and 4G LTE speeds contribute to its allure and functionality, making it an ideal choice for drivers in Ontario
2024 Toyota Camry Release Date
As you get ready to explore the scenic marvels of Ontario, the 2024 Toyota Camry is expected to make its debut on the roads in late 2023 or early 2024. Bookings for this model are scheduled to commence before the year's end, ensuring that Ontarians can be among the first to experience its innovative features. Bank Street Toyota confirms the release, providing assurance that this upcoming version will introduce a host of new features and enhanced safety measures – vital for navigating Ontario's diverse road conditions.
2024 Toyota Camry Price & Trims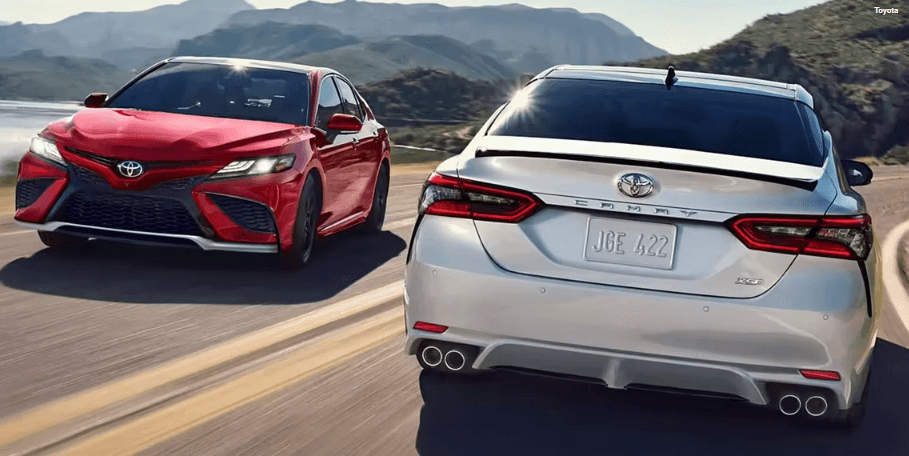 Just as the regions landscapes are diverse, the 2024 Toyota Camry offers a range of trims to suit different tastes. From LE to XSE, including hybrid options and sporty TRD editions, there's a trim for every type of driver. Pricing for these trims is expected to start at around $28,000 for the base model, ensuring that style, safety, and innovation are accessible to all. The premium trims, designed for those seeking top-notch features, may begin around $35,000. Here's the estimated price range for the various trims: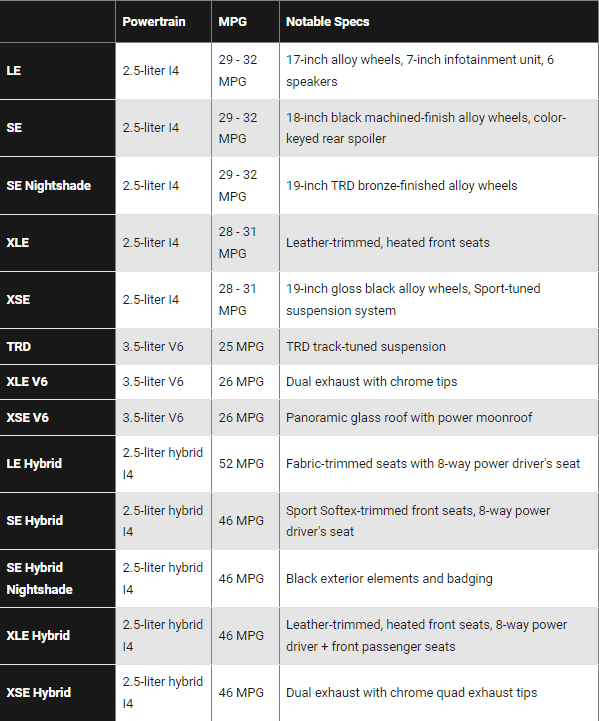 How Much Does A 2024 Toyota Camry Cost?
Pricing depends on the trim level you choose. There are 9 Different trims with different variations for the 2024 Toyota Camry. The starting prices are as follows:
LE: $28,000    SE: $29,000    LE Hybrid: $30,000    SE Hybrid: $31,000    XLE: $32,000    XSE: $33,000    XLE Hybrid: $34,500    TRD: $35,000   
XSE: $35,000
2024 Toyota Camry Range
The 2024 Toyota Camry's impressive hybrid technology becomes your perfect companion. It can cover over 800 kilometers on a full tank, accommodating your expeditions from Toronto's urban sprawl to the rugged terrain around Muskoka. The 54.5-liter fuel tank strikes a balance between city driving and highway cruising, with the range influenced by factors such as driving conditions, engine efficiency, and weather.
In terms of performance, the new Toyota Camry excels, accelerating from 0 to 100 km/h in just 5.6 seconds and reaching a top speed of 209 km/h – ensuring exhilarating drives from the city to cottage country in Ontario.
What Colors Does The 2024 Toyota Camry Come In? 
Much like the vibrant trees and flowers that decorates Ontario's landscapes, Toyota Motors introduces a refreshed color palette for the 2024 Toyota Camry, allowing drivers to express their individuality. The available exterior colors include:
Cavalry Blue
Predawn Gray Mica
Ice Edge
Ice Cap
Celestial Silver Metallic
Midnight Black Metallic
Reservoir Blue
Wind Chill Pearl
Supersonic Red
Wind Chill Pearl with Midnight Black Metallic Roof
Underground with Midnight Black Metallic Roof
Supersonic Red with Midnight Black Metallic Roof
Celestial Silver Metallic with Midnight Black Metallic Roof
2024 Toyota Camry Connecting Features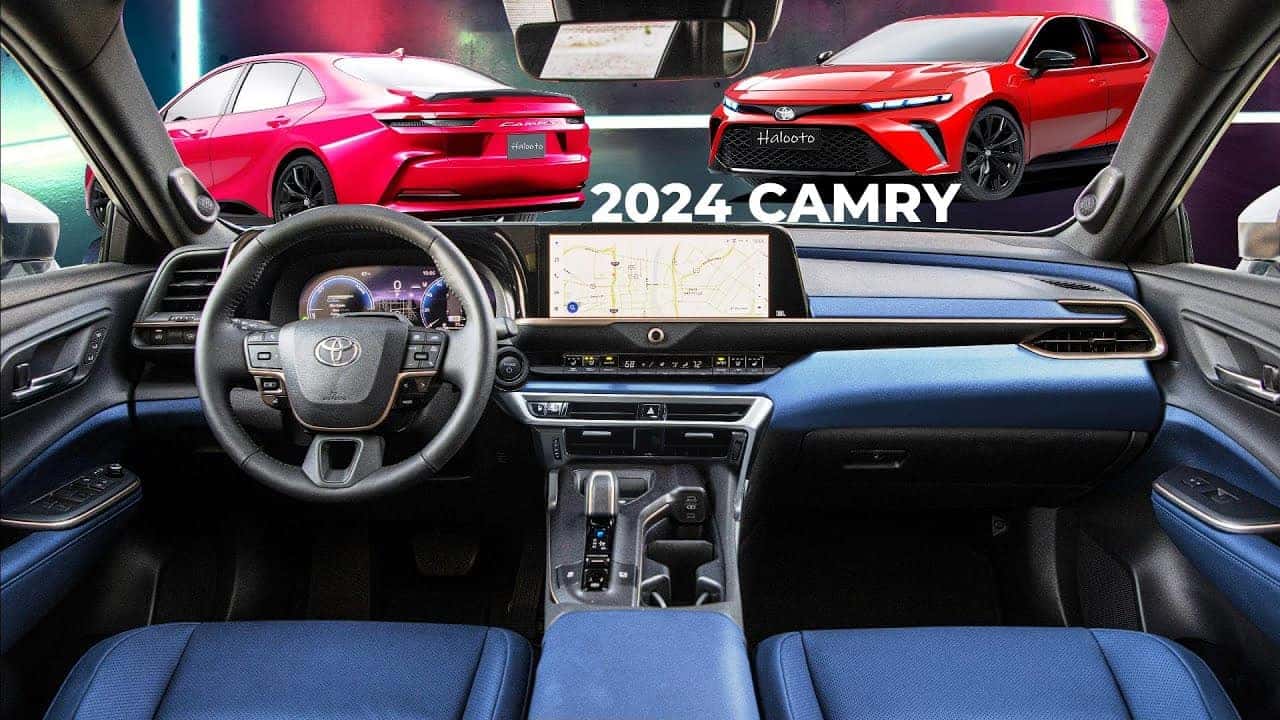 Navigating roads from Ottawa to Kingston and beyond becomes effortless with the advanced connectivity features of the 2024 Toyota Camry. These features include:
Rearview camera system for confident parking in urban centers and scenic spots alike

Google Assistant™ integration, ensuring you stay connected and informed hands-free

USB-C charge port, keeping your devices ready for capturing Oregon's breathtaking scenery

Apple CarPlay® and Android Auto™ compatibility for effortless integration of your smartphone's functions

Six speakers for an immersive audio experience, perfect for enjoying your favorite tunes.

Mobile hotspot and Wi-Fi Connect, allowing you to stay connected even during remote escapes

Bluetooth connectivity, providing a safe and convenient way to communicate while on the road

Premium Audio Sound System for elevating your entertainment experience
2024 Toyota Camry Safety Features
Safety continues to be of utmost importance, particularly when navigating Ontario's diverse terrains and changing seasons. The 2024 Camry is outfitted with state-of-the-art safety features that align seamlessly with Ontario's safety-conscious environment. Some of these safety features include:
Toyota Safety Sense 2.5+, encompassing a pre-collision system, lane departure warning, automatic high beams, and full-speed limit dynamic radar cruise control.

 Blind Spot Monitor with Rear Cross-Traffic Alert, 

10 airbags for comprehensive protection

Anti-lock Brakes (ABS) and Vehicle Stability Control (VSC), enhancing control, particularly during Oregon's variable weather conditions

Rearview camera for easy reversing

Adaptive Front-Lighting System (AFS), 
2024 Toyota Camry Interior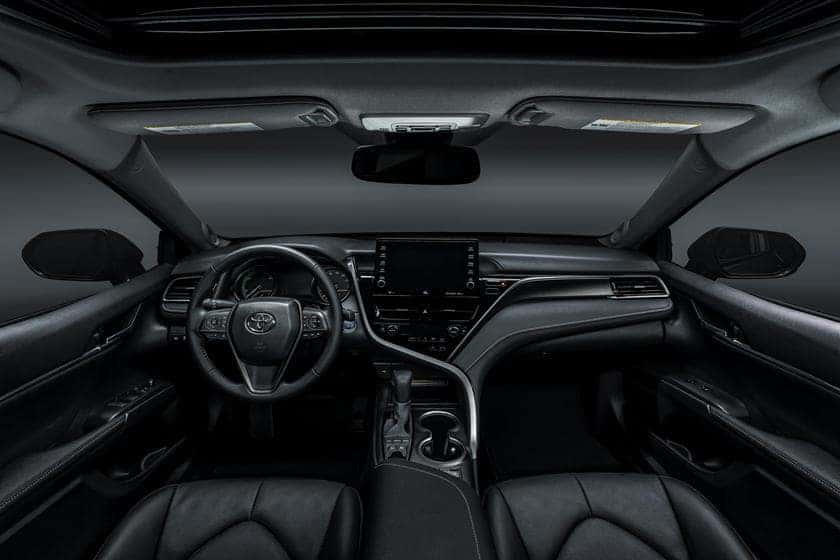 The interior of the 2024 Toyota Camry offers a surplus of comfort and convenience. The redesigned interior boasts features such as:
Comfortable seating for up to five passengers

Power-adjustable front seats

Heated and ventilated seats

Leather upholstery for a premium touch

Infotainment system with a touchscreen display, offering easy access to navigation and entertainment options

Apple CarPlay and Android Auto compatibility

Dual-zone automatic climate control, maintaining your desired temperature regardless of Oregon's weather fluctuations

Tri-zone automatic climate control on select trims

Suite of advanced safety features, providing a secure and confident ride. 
2024 Toyota Camry Engine & Performance
Navigating a multitude of terrains requires a versatile engine, and the 2024 Toyota Camry delivers just that. Available in various trims, some powered by gasoline engines and others by hybrid powertrains, the Camry is tailored for your type of driving. 
Non-hybrid trims, such as LE, SE, SE Nightshade, XLE, and XSE, come equipped with a 2.5-liter four-cylinder engine producing 203 hp and 184 lb-ft of torque. This engine is paired with an eight-speed automatic transmission and offers both front-wheel drive (FWD) and all-wheel drive (AWD) options, ensuring you're ready for whatever the roads throw your way.
Hybrid trims feature a 3.5-liter V-6 engine capable of generating 301 hp and 267 lb-ft of torque. All hybrid trims are equipped with an all-wheel drive (AWD) drivetrain, enhancing performance and control.
2024 Toyota Camry Hybrid – MPG
The 2024 Toyota Camry shines in terms of fuel efficiency, especially in its hybrid configurations – a crucial factor for your journeys across Ontario. The hybrid powertrain of the current model offers the following specifications:
2.5-liter four-cylinder engine
Power output: 203 hp and 184 lb-ft of torque
Fuel economy: 8.4 L/100 km city, 6.0 L/100 km highway, 7.4 L/100 km combined

Additionally, hybrid trims feature a 3.5-liter V-6 engine that offers even better fuel efficiency.

Power output: 301 hp and 267 lb-ft of torque
Fuel economy: 5.0 L/100 km city, 4.4 L/100 km highway, 4.7 L/100 km combined
Acceleration: 0 to 100 km/h in just 5.6 seconds
If you are looking for Imperial measurements read more here! 
2024 Toyota Camry Dimensions
Length: 487.74 centimeters
Width: 183.9 centimeters
Height: 144.53 centimeters
Wheelbase: 282.45 centimeters
Curb Weight: 1501.63 kilograms
Ground Clearance: 14.48 centimeters
Turning Radius: 11.58 meters
If you are looking for Imperial measurements read more here! 
In this thorough review, we have explored various aspects of the upcoming 2024 Toyota Camry, offering insights into its redesign, release date, pricing and trim options, range, color choices, connectivity capabilities, safety features, interior comfort, engine performance, fuel efficiency, and technical specifications. Our intention is to provide prospective buyers in Ontario with a comprehensive understanding of this highly anticipated model. Please feel free to share this valuable information with your friends and family to keep them well-informed about this exciting upcoming release. We appreciate you taking the time to read this guide!