2024 Toyota Crown: Release Date, Price, Features, and Specs
Blog
Aug 21th, 2023


2024 Toyota Crown: Coming Soon To Ottawa, Canada 
As the automotive world eagerly awaits the unveiling of Toyota's latest creation, the 2024 Toyota Crown, a new era of luxury and performance is on the horizon. Toyota Motors has set the stage for a remarkable sedan that promises to redefine driving experiences. This article dives into every aspect of this upcoming masterpiece, from its release date, pricing, and diverse trims to its standout features, technical specifications, and dimensions. With the 2024 Toyota Crown, Toyota is ready to deliver a mix of opulence and power that will undoubtedly captivate car enthusiasts and luxury seekers alike. Let's discover what makes the 2024 Toyota Crown an extraordinary addition to the automotive landscape.

2024 Toyota Crown Release Date
Toyota Motors has recently provided a notification regarding the release date of the new 2024 Toyota Crown. While the final date hasn't been confirmed, it's expected to be available in North American markets such as America and Canada. Media reports and experts suggest a potential release in late 2023 or early 2024, with bookings starting toward the end of the year.
2024 Toyota Crown Price & Trims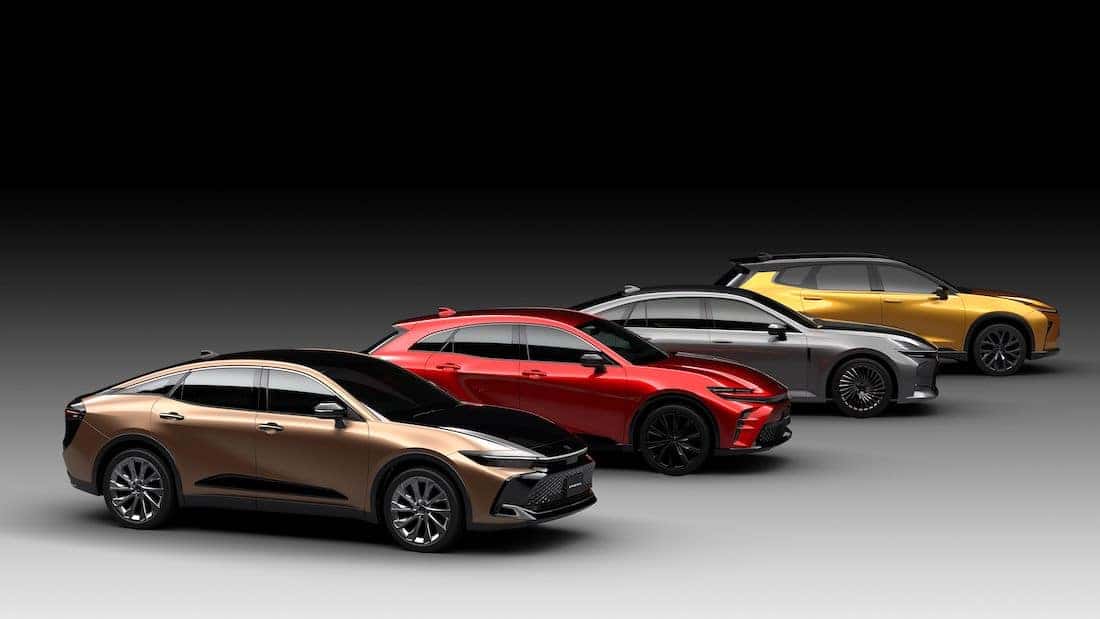 The 2023 Toyota Crown is available in three trims: XLE, Limited, and Platinum, with prices ranging from $39,950 to $52,350. The 2024 model is likely to feature the same trims with a possible slight price increase. While no announcement has been made, estimated prices based on the 2023 model are as follows:
XLE: $41,000 + HST
Limited: $46,600 + HST
Platinum: $53,500 + HST
2024 Toyota Crown Range
The new Toyota Crown is a sedan with a remarkable range, capable of covering over 804km on a full tank (55 liters). However, the actual range may vary due to factors like driving conditions, weather, engine performance, and traffic.
In terms of speed and range, the 2024 Toyota Crown offers impressive performance. It can accelerate from 0 to 60 in just 5.7 seconds and achieve a top speed of 210km/h.
2024 Toyota Crown Features
The new Toyota Crown comes packed with advanced features that enhance both safety and entertainment during your journeys. Some of the key features include:
Wi-Fi hotspot

Safe exit warning

Bluetooth connectivity

Audio sound system

Rear-seat alert

Safe-exit assist

Lane-keeping assist

Blind-spot monitoring

Forward collision warning

Rear cross-traffic alert

Automatic high-beam assist

360-degree camera system

312mm touchscreen display

Wireless smartphone charging

Apple CarPlay and Android Auto compatibility

6-speed automatic transmission

Adaptive cruise control
2024 Toyota Crown Colors
The new Toyota Crown will be available in various exterior colors, including:
Black

Emotional Red

Precious Silver

Precious Bronze

Precious Metal

Precious White Pearl

Precious Silver with Black

Precious Gray with Black

Emotional Red with Black

Precious Bronze with Black

Precious Metal with Black

Precious White Pearl with Black
2024 Toyota Crown Interior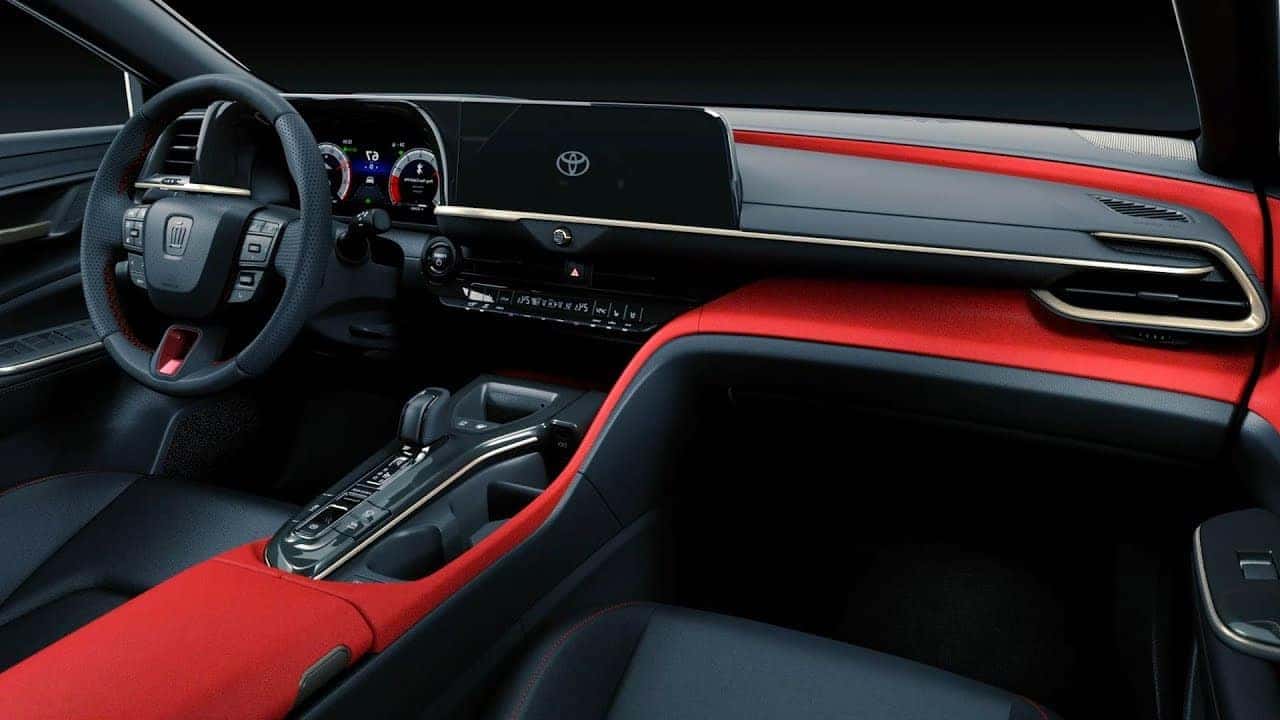 The interior of the 2024 Toyota Crown boasts luxury and strength. All seats are made of hybrid material and come with ventilated and heated options. The cabin features ambient lighting, a 312 mm touchscreen display, Wi-Fi hotspot, safe exit warning, and wireless smartphone charging, providing safety and entertainment during driving. The rear seats offer increased legroom and a more spacious cabin.
2024 Toyota Crown Sport Engine & Performance
The 2024 Toyota Crown is likely to continue the trend of powerful hybrid powertrains. The base trims XLE and Limited may feature a 2.5-liter four-cylinder engine with three electric motors, generating a combined power of 236 HP. The top trim Platinum could come with a 2.4-liter four-cylinder engine and an electric motor on the rear axle, producing 340 hp and featuring all-wheel drive and a standard six-speed automatic transmission. The Platinum trim can accelerate from 0 to 60 in 5.7 seconds.
2024 Toyota Crown Sport Specs
Brand: Toyota
Model: 2024 Crown
Body Style: Sedan
Doors: 4
Seating Capacity: 5 passengers
Engine Type: 2.5-liter four-cylinder
Power: 340 hp
Transmission: 6-speed automatic
Drivetrain: RWD and AWD
0-60 MPH Time: 5.7 seconds
Top Speed: 210 km/h
Range (Full Tank): Up to 805 km
Fuel Tank Capacity: 55 Liters
2024 Toyota Crown Sport Dimensions
Length: 185.4 inches (4710 mm)
Width: 74 inches (1880 mm)
Height: 61.4 inches (1560 mm)
Wheelbase: 109 inches (2770 mm)
Ground Clearance: 5.8 inches (147 mm)
Curb Weight: 4,250 lbs.
The upcoming 2024 Toyota Crown Sport and Sedan is loaded with everything a Toyota Enthusiast desires. Now you know its release date, price, trims, and features to its specs and dimensions, we've covered all the key aspects. As Toyota enthusiasts anticipate the arrival of the new Crown, this article aims to offer valuable insights to help prospective buyers make informed decisions. For more information, updates, and details, stay tuned to reliable sources and Toyota's official website.